"I think one who knows how to govern the empire should not do so"

- Chuang Tzu, c.300-400BC-
___________________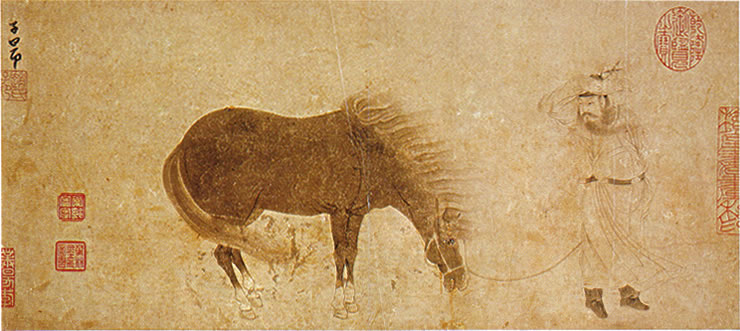 ___________________
Horses have hoofs to carry them over frost and snow; hair, to protect them from wind and cold. They eat grass and drink water, and fling up their heels over the champaign. Such is the real nature of horses. Palatial dwellings are of no use to them.
One day Poh Loh appeared saying, "I understand the management of horses".
So he branded them, and clipped them, and paired their hoofs, and put halters on them, tying up their heads and shackling their feet, and keeping them in stables, with the result that two or three in every ten died. Then he kept the hungry and thristy, trotting them and galloping them, and grooming them and trimming them, with the misery of tasselled bridle before, and the fear of the knotted whip behind, until more than half of them were dead.
The potter says, "I can do what I want with clay. If I want it round I use compasses; rectangular, a square."
The carpenter says, "I can do what I will with wood. If I want it curved I use an arc; if straight, a line."
But on what grounds can we think that the natures of clay and wood desire this application of compasses and square, of arc and line? Nevertheless, every age extols Poh Loh for his skill in managing horses, and potters and carpenters for their skill with clay and wood …
___________________
Horses live on dry land, eat grass and drink water. When pleased, they rub their necks together. When angry, they turn round and kick up their heels at each other. Thus far only do their natural dispositions carry them. But bridles and bitted, with a plate of metal on their foreheads, they learn to cast vicious looks, to turn the head to bite, to resist, to get the bit out of the mouth or the bridle into it. And thus their natures become depraved – the fault of Poh Loh.
Chuang Tzu, c. 300 -400BC, translated by Herbert Giles
___________________
According to my idea, those who knew well to govern mankind would not act so. The people had their regular and constant nature: they wove and made themselves clothes; they tilled the ground and got food. This was their common faculty. They were all one in this, and did not form themselves into separate classes; so were they constituted and left to their natural tendencies. Therefore in the age of perfect virtue men walked along with slow and grave step, and with their looks steadily directed forwards.
At that time, on the hills there were no foot-paths, nor excavated passages; on the lakes there were no boats nor dams; all creatures lived in companies; and the places of their settlement were made close to one another. Birds and beasts multiplied to flocks and herds; the grass and trees grew luxuriant and long. In this condition the birds and beasts might be led about without feeling the constraint; the nest of the magpie might be climbed to, and peeped into.
Yes, in the age of perfect virtue, men lived in common with birds and beasts, and were on terms of equality with all creatures, as forming one family – how could they know among themselves the distinctions of superior men and small men? Equally without knowledge, they did not leave (the path of) their natural virtue; equally free from desires, they were in the state of pure simplicity. In that state of pure simplicity, the nature of the people was what it ought to be. But when the sagely men appeared, limping and wheeling about in (the exercise of) benevolence, pressing along and standing on tiptoe in the doing of righteousness, then men universally began to be perplexed. (Those sages also) went to excess in their performances of music, and in their gesticulations in the practice of ceremonies, and then men began to be separated from one another.
If the raw materials had not been cut and hacked, who could have made a sacrificial vase from them? If the natural jade had not been broken and injured, who could have made the handles for the libation-cups from it? If the attributes of the Dao had not been disallowed, how should they have preferred benevolence and righteousness? If the instincts of the nature had not been departed from, how should ceremonies and music have come into use? If the five colours had not been confused, how should the ornamental figures have been formed? If the five notes had not been confused, how should they have supplemented them by the musical accords?
The cutting and hacking of the raw materials to form vessels was the crime of the skilful workman; the injury done to the characteristics of the Dao in order to the practice of benevolence and righteousness was the error of the sagely men.
___________________
External links
___________________
Legge, James (1891). The Sacred Books of China: The Texts of Taoism, Part I. Oxford: Oxford University Press. New York: Dover Publications
Giles, Herbert Allen (1926). Chuang Tzǔ: Mystic, Moralist, and Social Reformer.  New York: AMS Press
___________________
You can easily share pages or posts by clicking the plug-ins below. Comments are a great way to share your thoughts. Gracias!